(Starbucks Storefront)
Happy Sunday 16ozDays family! We hope you've enjoyed your weekend; ours was certainly busy. Recently we've been thinking more and more about starbucks. Don't worry, we won't be going there, but we've been wondering how they have championed so much of the coffee market. So, we did some research. Today we've got an interesting piece for you to ponder. We will be looking into the history of Starbucks, how they became the coffee giant they are today, and what we can learn from their marketing strategies. Let's dive in.
Starbucks History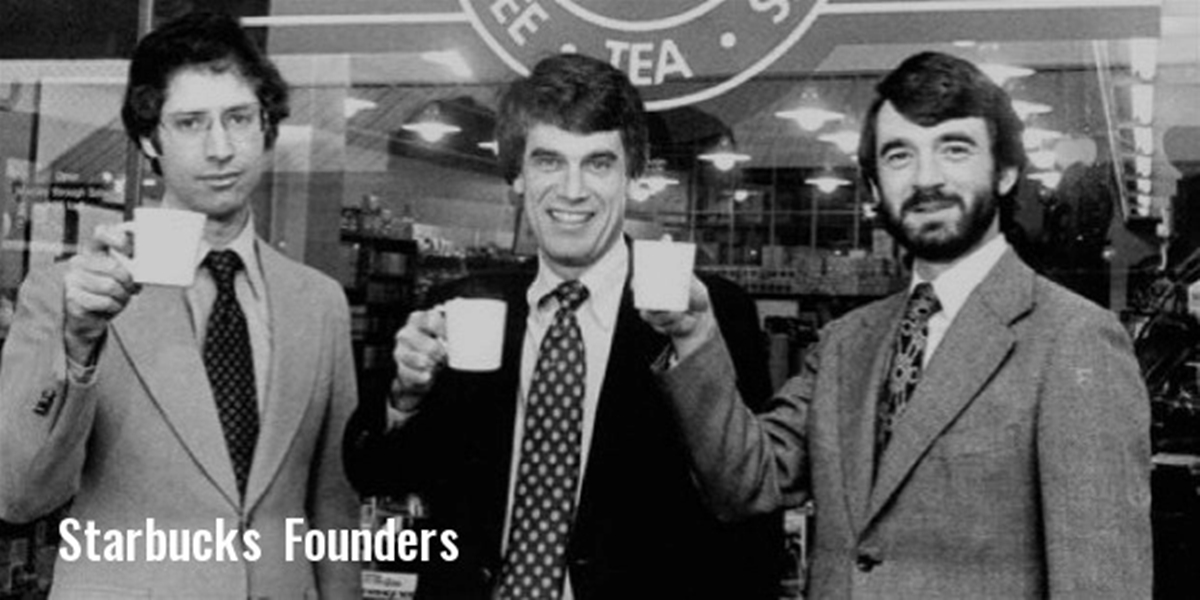 (Starbucks Founders, picture from Avada)
Beginning in 1971, when three friends started a small shop in Seattle, WA, Starbucks was a vendor of high quality coffee beans and equipment. They supplied their products to high end restaurants and shops in the area, not even brewing their own coffee (Avada). Eventually, as the company grew, it was purchased by Howard Schultz, the man responsible for changing the trajectory of Starbucks forever.
By 1989, Starbucks had 46 stores in the Pacific Northwest and Midwest, providing their beans and now, their own crafted beverages (Avada). Starbucks underwent a rebrand, changing to the green we see today and giving their counter workers the esteemed title of Baristas. The company went public in 1992 and as of 2020 there are, "7,000 Starbucks outlets in the U.S… 25,734 globally, on six continents…serving a total of about 90 million customers per week" (Avada). So it's pretty safe to say Starbucks has done well for itself. 
Current Market 
(Starbucks Cups)
Now the question is posed: how has starbucks been able to remain #1 in the industry? How have they continued this upward trend? For that, we need to assess a couple main parts of the Starbucks brand. 
First is their concept: Starbucks was arguably the first mainstream shop making delicious, unique beverages accessible to everyone and in an ambient space where people could gather (Spoon University). Their first to the table advantage gave them an extreme upper hand over competitors. 
Next is Starbucks' humongous amount of locations. Starbucks has made it so incredibly convenient and easy for consumers to access their shops and their coffee no matter where they are (Spoon University). Not just within their city, but within the world. Mitigating an access barrier for consumers and allowing people to maintain their habitual routines is a huge plus for Starbucks.
Third is the fact that Starbucks has priced themselves perfectly (Spoon University). Consumers may believe this price is too high or even sometimes too low, but yet everyone still pays it. Starbucks has created a dependency on their product given its accessibility and historic uniqueness and therefore now has captured the market. They have priced their drinks high enough to make amazing returns, yet not too high as to lose their base consumers. 
Barriers
(Latte Art)
What is stopping other shops from taking over Starbucks stake? Unfortunately, many things. The first is that coffee shops aren't necessarily cheap to start. The equipment is expensive, space is expensive, and acquiring that much product is expensive. Beyond startup costs, Starbucks also has a massive head start. They have been able to expand across the world and hold so much capital that it is unlikely any other shop may beat them. Starbucks has provided ample barriers for smaller shops to even overturn them, but that doesn't mean we have no power. Buyer power is huge in a market with so much rivalry and how we spend our money matters. 
What We Can Learn From Starbucks 
(Starbucks Sign)
Now that we've covered how Starbucks has accomplished what they have, let's look at some lessons we can learn. The first is to be innovative (Simplexity). Starbucks has always thought outside of the box from its very conception. They have dominated a market by being the first; they took risks and they paid off, big. 
Secondly, Starbucks put customers first. When they were just a shop in Seattle, Starbucks relied almost exclusively on word of mouth marketing. That means every interaction with a customer mattered. Still today, Starbucks relies on this form of marketing heavily. Providing a pleasant experience for the consumer is always top priority for them. 
Third, Starbucks has created meaningful relationships with other brands (Simplexity). They have targeted locations where there can be a need created for coffee. Think Target and Barnes in Noble, these are partnerships in which Starbucks has excelled, bringing the Starbucks experience out of stores and into new markets. This is important to make sure they have an impact in every aspect of consumers lives and are tapping into markets where a need could potentially be created. 
Final Thoughts
(Woman Enjoying Starbucks)
There's no doubt Starbucks is huge, but they can also be a model for success for smaller shops. That doesn't mean you need to be a million dollar corporation to be successful, but remembering the three biggest aspects of Starbucks that have brought its success (innovation, customers, and relationships), can help any shop succeed. 
Like we always tell you, 16ozDays family, how you spend your money matters. As we have laid out here, this is a fierce market, and Starbucks definitely has it by a chokehold, but that doesn't mean we have to spend our money or time there. Remember what is important to you, and the kind of change you want to see in the coffee industry, and spend your money wisely.
If you're looking for more cool shops to support, check out our recent post: 9 Women-Owned Cafes in the Twin Cities, or 7 Coffee Shops for an Aesthetic Insta Pic. We love you all and hope you've enjoyed this piece. Don't forget to tip your barista and have a great week.