(Enjoying a vanilla bean doughnut inside Ninas Coffee Cafe)
Hey hey Coffee Addicts! Another week down, although we could probably do without this humidity here in the Twin Cities. We hope you're all doing well and had not only a productive, but enjoyable week filled with good coffee. As for us, we've been starting new jobs, visiting new cafes, and building up our membership program! If you're unfamiliar, you can read more about it here on our Coffee Club page. 
In our never ending search for the best cafes to bring you, one thing we've been recently considering is where customers can go for not only their caffeine fix, but also a great bite to eat. With that said, nothing goes hand in hand better than a flakey pastry and a cup of joe, so this week we have brought you 7 of the best bakeries, and the best pastries in the Twin Cities that also have great coffee. 
(A sliver of the bakery case at Ninas)
A St. The Paul establishment, Ninas, has been a feature for ages.  A community staple, gathering place, and even a participating shop in our Coffee Club, this shop has touched the hearts of many. Not only with their coffee and customer service but with their delicious, unique, and freshed assortment of baked goods. The ever changing selection includes various scones, muffins, and more traditional flakey pastries. Vegans and gluten intolerant folks fear not, they also always have a hearty supply of Sift baked goods. 
(Crepe Cake from Bellecoure, image from bellecourebakery.com gallery)
When the beloved Bellecour closed its doors, it was only for a moment before they moved into the beautiful Cooks of Crocus Hill shop located in the North Loop neighborhood of Minneapolis. Dreamed up by one of Minneapolis prized chefs, Gavin Kaysen, Bellecore is a work of beauty. A menu stacked with flakey pastries, both savory and sweet, seasonal breakfast sandwiches, and a delicious crepe cake, they have something for everyone. Their carrot cake muffin is even gluten and dairy free. Stop by Bellecour for a great latte and a beautiful box full of golden brown goods.
(Toaster pastry from Hark! Cafe, photo from startribune.com)
This one goes out to all our dietarily restricted readers or just simply those who enjoy local, fresh, farm to table style baked goods. Hark! Cafe, located in the Warehouse District, Minneapolis, is a fully vegan and gluten free, celiac safe cafe and bar. During all their hours, they keep a beautiful pastry case with everything from seasonal toaster pastries offering childhood nostalgia for all, fruit tarts made from in-house preserves, muffins, cookies, and so much more. They also have wonderful coffee options including their housemade chai which is the perfect spicy to sweet balance. 
(Flakey pastry and coffee inside Cafe Ceres)
New on the block, Cafe Ceres opened its doors in 2020. They now boast two locations, Linden Hills and Armitage. The Turkish style coffee house not only has amazing, flavorful specialty beverages but a wonderful array of baked goods; some familiar and some new takes. Pastry chef and co-owner Shawn McKenzie works to incorporate traditional Turkish flavor profiles into traditional pastries as well as represent the country's own traditional baked goods. The aesthetic of both locations is amazing, following in suit of its sister restaurants, Martina, Colita, and more. 
(Croissant from Patisserie 46, photo from patisserie46.com gallery)
Neighborhood French cafe, patisserie 46 located off of Grand Ave, St Paul, has many claims to fame. Food & Wine even gave them the title of the world's best eclairs. The cafe is cozy, warm, and inviting. From the coffee bar to the pastries we guarantee you'll have a good time.  
(Lovely view inside the Isles Buns & Coffee shop)
An uptown legend and fundamental part of Minneapolis, Isles Bun and Coffee has been slinging joe since 1993. It's changed hands since then, but the taste never changed. If you visit, make sure to grab one of their famous cinnamon rolls. Their building is historic and the team has kept intact the old time feel. They even boast that they like to stick to the fundamentals of everything: real butter, flour, and eggs. No preservatives, high fructose corn syrup, or anything of that nature.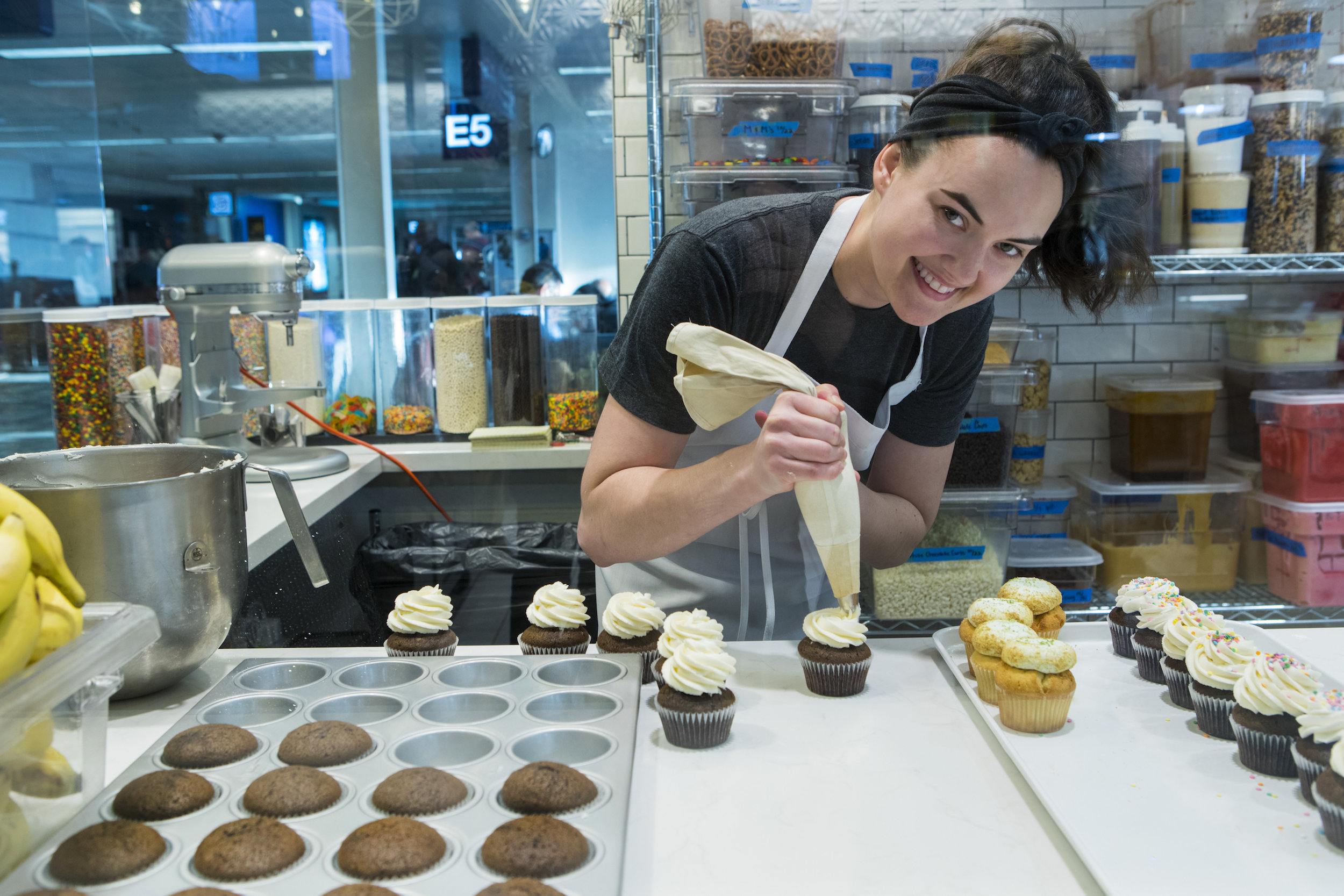 (Bakers hard at work inside Angle Food Bakery, photo from anglefoodbakery.com)
Lets just say we were HEARTBROKEN when Angel Food closed their downtown Minneapolis location. During their 18 month covid-closure, we worried we would never eat those delicious scones or drink their coffee again! Now residing in a gorgeous shop in St Louis Park, roughly 15 minutes from downtown, we still frequent it. Angel Food Bakery isn't afraid to get funky with their pastries, going for non traditional flavors and always testing out new recipes. They craft everything from doughnuts to loaves of bread pudding (which we recommend you try). 
Honorable mentions:
We love Corner Coffee for their food, but the pastries are limited. Their coffee is amazing and their breakfast burritos are to die for nevertheless.
While not a traditional shop, Pennys has a great atmosphere, great coffee, and even amazing crepes! 
Wrap Up
Wow, this post made us hungry. Guess we will have to join y'all this week and go visit some of these amazing local bakeries. It's gonna be a steamer of a week, so stay safe, stay hydrated, and spend some time checking out some new shops! It's a great week to step away from the gardening and spend some time inside, sipping on some cold brew and eating a croissant. We hope you all enjoyed this post and please, let us know if you visit any of these shops! Share your pictures with us on instagram @16ozdays. Stay cool and don't forget to tip your barista.